The first few days of fall are upon us, and that autumnal feeling is already in the air. The weather is slowly getting crisper and cooler, apple and pumpkin flavored items are popping up everywhere and the leaves on the trees are turning to beautiful shades of gold, orange and yellow. 
With the new season upon us, it is time to get festive and take advantage of the many opportunities that fall has to offer, especially when planning your wedding.
Here are PA Wedding Guide's must-haves for a magical fall wedding.
Because who doesn't love an excuse to eat all the delicious food that fall has to offer? You can go simple or full-out, from pumpkin bread and caramel apples to a cheese fondue paired with slices of fresh bread, apples and pears. 
If you're into Oktoberfest, try serving a late-night pretzel display paired with delicious German mustards. If you are looking for more of a classic fall spread, try an apple tart and pumpkin pie, or pumpkin bread and an apple pie. If you are more of a DIY person, try a caramel apple station. If you prefer to relax with a hot beverage, try ending the night with some nice, hot apple cider. The possibilities are endless!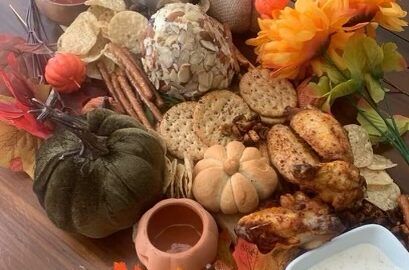 2. Cozy Fall Cocktail Lounge
There's no better way to get comfy and cozy in the cool weather than with a fall-inspired cocktail lounge. There are so many ways that you can bring this idea to life, so once again, the possibilities are endless. You can start with some warm autumn colors such as dark oranges, maroons and browns. You can also add some fall-themed bouquets, with light and golden flowers, and other fall vegetation such as wheat stalks, hay and branches.
Add an additional cozy touch by offering flannel blankets for the guests, starting a fire and even sharing some sweet treats such as hot cocoa, steamed apple cider and s'mores.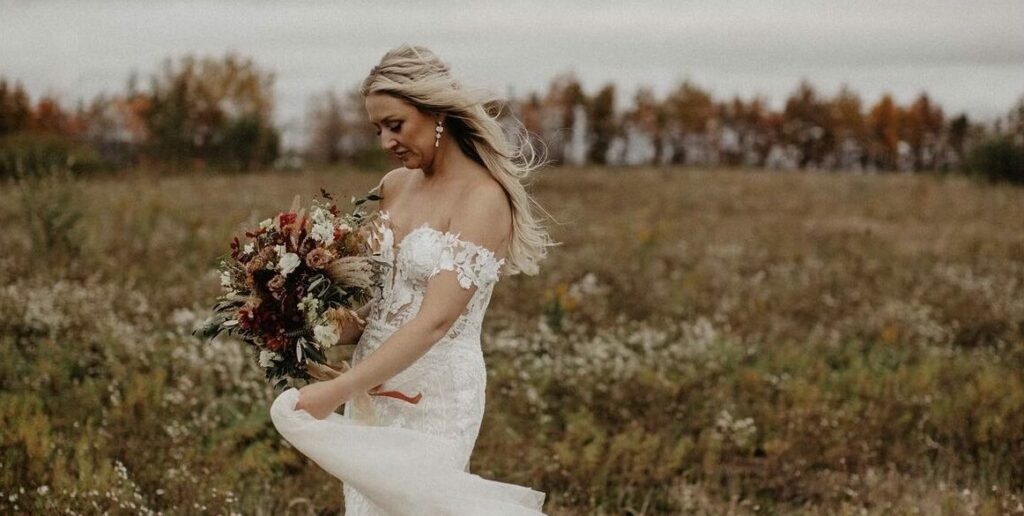 There are so many ways to incorporate autumn into your wedding, and décor is a great way to add subtle touches to your already unique style. Think plaid, fall-inspired bouquets (with flowers to match the plaid, of course), foliage filled centerpieces and simple fall table linens. 
If you don't want to put too much work into finding and coordinating décor, opt for an open-air ceremony. This way you can play off the natural elements, and every so often add additional décor such as pumpkins, barrels, hay and even a flower-covered arch.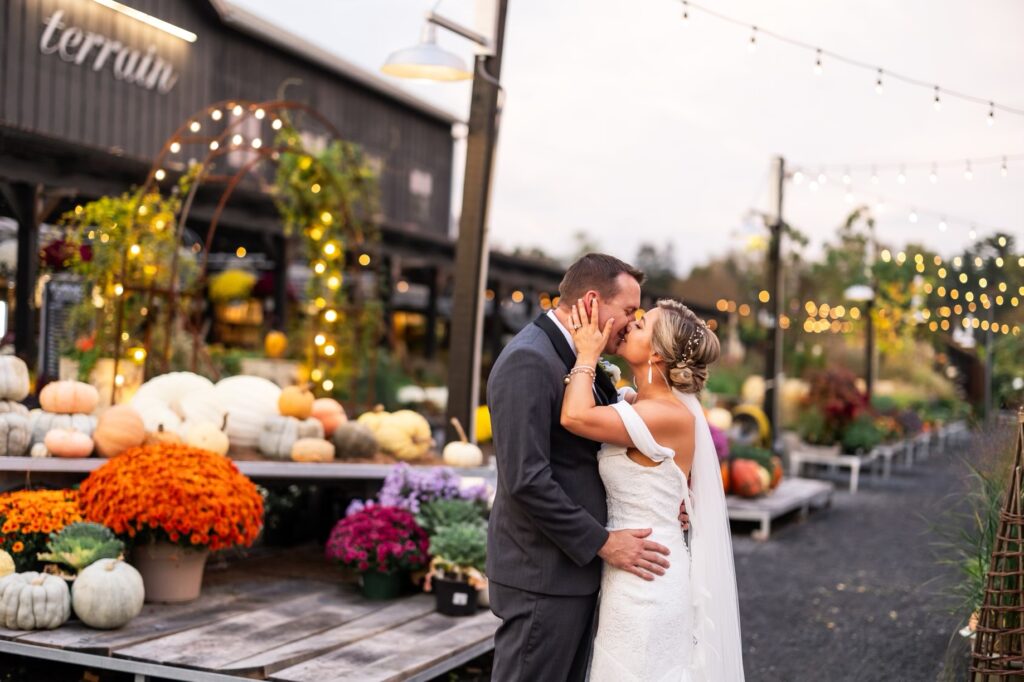 4. A Beautiful Autumnal Venue
Whether you choose a beautiful forest full of fall foliage or an expansive sunflower field, the venue is what makes, or breaks, the fall theme. Even if your décor, dress, lounge and food all match the autumnal theme, it is hard to hold it all together without the perfect venue. 
To find this venue, think of what sort of fall theme you are aiming for. Try a farm if you are looking for that rustic feeling. Try a sunflower field if you are longing to take advantage of sunflower season. If you have found the venue of your dreams, however, and still want that fall feeling, look for any outdoor areas around the venue to get that beautiful foliage in your pictures.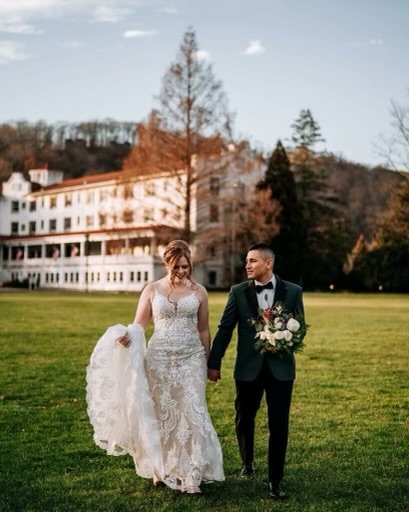 5. Ride a Tractor to the Ceremony Site
If you have always wanted something big and impressive for your dream fall wedding, then this is exactly what you've been looking for. A tractor-driven hayride is by far the ultimate way for you and your bridesmaids to arrive at the ceremony site. Just imagine the gasps and wide eyes, followed by the cheering of the wedding guests as they see you arrive. 
While this may not be feasible for everyone, especially for those not getting married on a farm, there are many ways to make your first entrance absolutely jaw-dropping, even without a hayride moment. Think of incorporating fall foliage into your aisle or adding different fall accents to your dress. Once more, the possibilities are endless.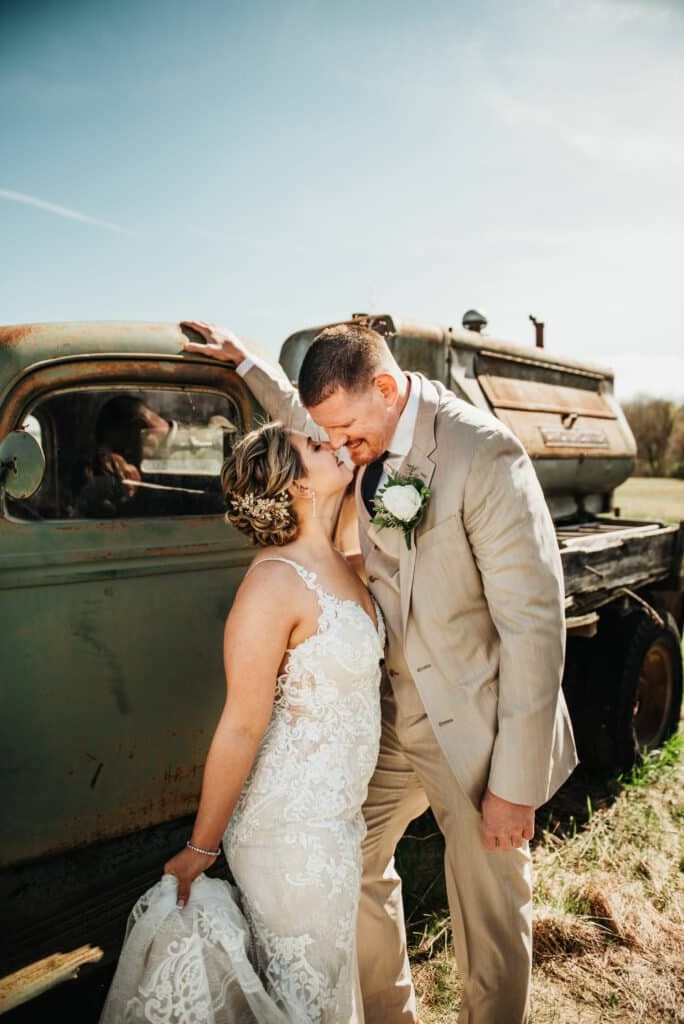 While wedding planning can be stressful, a breathtaking fall wedding can be accomplished with just these five things in mind. Our advice is to keep it simple and keep it uniquely yours. 
As mentioned earlier, there are so many ways to make fall weddings your own, and hopefully these tips will help put your mind at ease when planning your very own fall wedding. Happy Planning… let the fall and wedding festivities begin!